Horse community Abtenau: Riding holidays in the Salzburg region
Riding lessons, riding camps and wonderful rides in Abtenau
With the gentle four-legged friends on "you" and "you": In Abtenau, beginners, English and Western riders will find well-trained school horses and certified riding instructors for a safe and varied riding experience. While the little ones gain their first experiences on horseback on good ponies, advanced riders with off-road criollos and warmblood horses have long been out and about in the nature around Abtenau. Incidentally, you can start riding lessons at any age! What should your riding holiday in Salzburger Land look like?
With joy in the matter: riding lessons in Abtenau
In individual and group lessons, at riding camps and courses, you will find out everything you need to know about seat, rein and thigh aids. You learn to empathize with the movement of the horse, hone in dressage exercises or the perfect line in the jumping course. There is regularly the opportunity to take part in tournaments and exams: rider pass, rider needle, license and driving course exams are on the program. If you've always wanted to know what the secret of the cowboys is, you've come to the right place with lessons in western riding.
Riding arena, riding arena and grounds: a varied riding holiday in Abtenau
Riding halls, outdoor riding arenas for dressage and jumping as well as numerous riding and driving paths in the area are available to you on your riding holiday in Salzburg. Would you like to take your own horse with you on vacation? No problem in Abtenau: just rent a guest box for your four-legged sports friend!

Horses of various breeds (Noriker, Warmblood, Haflinger) are successfully bred throughout the province of Salzburg, including in Abtenau. You might discover in the Riding holiday in the Salzburg region yes your favorite horse?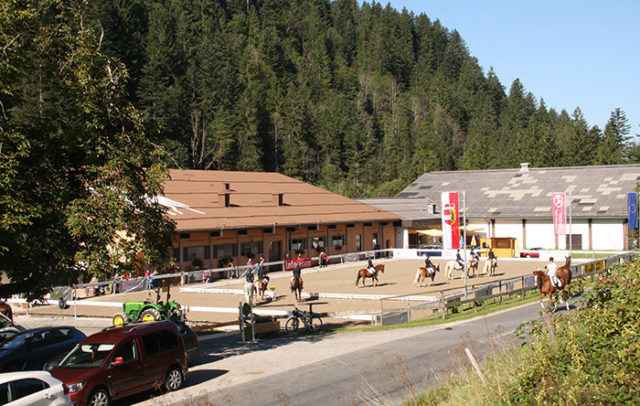 Hall sides 295, 5441 Abtenau
Tel. +43 664 9403202
reitgut.lammertal@aon.at