Eating & drinking on vacation: days full of enjoyment
Nature, culture and specialties on vacation in the Salzburger Land
A holiday in Abtenau is full of pleasure and pure sensual pleasure all year round! The varied landscape with majestic mountain peaks, mystical valleys and sunny alpine pastures, the warm-hearted people who know how to celebrate, the culinary delights that can only be found here in Tennengau in the Salzburg region: discover new, enjoyable moments every day of your holiday in Abtenau!
From alpine specialties and award-winning cuisine: Tennengau region
It's no secret that you can dine superbly in Salzburger Land. It is perhaps less known that you can enjoy very special specialties in the Tennengau region. The Tennengau alpine cheese as well as the Tennengauer Berglamm can be found in the catalog of the "GenussRegion Österreich" since 2006. The initiative draws attention to regionality and typical delicacies in various regions of enjoyment throughout Austria. Learn more about the finest culinary delights in the Salzburger Land!
Tennengau alpine cheese and mountain lamb: enjoyment in the Salzburg region
Agriculture and animal husbandry are very small in the Salzburg region due to the geographical conditions. The Tennengauer Berglamm has been a wool, milk and meat supplier in the Abtenau region for centuries. On average, a farm only keeps 20 ewes that eat fresh herbs and lush mountain grass. Tennengau cheese is a hay milk cheese that is produced in organic quality. The cows graze at 500-1.300 m above sea level and in winter self-produced mountain hay is fed. Short transport routes, sustainable management and controlled organic quality: it tastes good!
Alm delicacies and cuisine at the highest level around Abtenau
Home-baked bread, spicy alpine cheese, fresh buttermilk and hearty alpine bacon: you shouldn't miss a snack on one of the alpine pastures in the Abtenau region! The inns and restaurants in Abtenau cook traditionally - with a focus on the requirements of healthy, modern nutrition. In the gourmet restaurants, for example in Döllerer's world of pleasure in Golling or in the Obauer restaurant in Werfen, culinary enjoyment is taken to extremes: the best local produce is given the highest attention.
Tennengau Gourmet Vouchers are the Genschenk tip in the Tennengau Alpine Cheese and Mountain Lamb Gourmet Region! The vouchers can be redeemed at all partners of the GenussRegion Tennengau Almkäse and Berglamm.
Enjoyment becomes child's play on vacation in Abtenau! Browse through the accommodations in the Abtenau holiday region in Lammertal now and secure your favorite room for your next vacation in the Salzburger Land - send yours non-binding request online from!
Enjoyment partner in Abtenau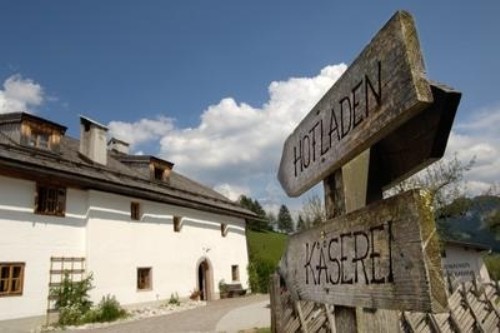 Toni Gschwandtner
Schratten 5, 5441 Abtenau
Tel. +43 6243 28813
info@sonnleitn-abtenau.at
Fam. Barbara and Leopold Gsenger
Weissenbach 53, 5350 Strobl
Tel. +43 664 588 249 8 or +43 664 249 630 1
barbara.gsenger@gmx.at
Open from late May to mid-October.
Cheese Alm "Rocheralm"
Maria Quehenberger
Wallingwinkl 25, 5440 Scheffau am Tennengebirge
Tel. +43 664 431 111 0
sennerin@rocheralm.at
Open from mid-May to the end of October.
Schnitzhofer family
Tel. +43 664 448 967 7
schnitzhof@aon.at
Open from mid-June to the end of October.
GenussWirtshaus Gasthof Poschenhof
Rettenbacher family
Döllerhof 2, 5441 Abtenau
Tel. +43 6243 2440
lower.sonnleiten@aon.at
Pendl family
Au 66, 5441 Abtenau
Tel. +43 6243 2438
info@gasthausraunstein.at
Buchegger family
Hall sides 9, 5441 Abtenau
Tel. +43 6243 2955
info@buchegger-schnaps.at